The flames on your gas fireplace are produced by tiny jets of gas in the burner tube that come erupt from tiny holes. Over the warm months - especially on open gas logs - dust and dust mites can clog these little openings resulting in a dirty flame or, worse yet, the flames not being able to come through at all. Cleaning the gas burner is the minimum job that should be done annually on your gas logs or gas fireplace/insert.
Like other appliances, a simple cleaning and tune-up will keep your fireplace burning brightly and operating at peak efficiency. Gas logs, gas fireplaces and gas inserts share many common components which should be checked annually and cleaned as needed.
Our Annual Gas Service includes:
Removal of logs; clean lint and carbon build-up from burner and logs; a dirty burner and dirty logs produce poor flame quality, difficulty lighting your appliance, irregular flame pattern and excessive soot buildup

Inspect and clean hot air vents, grills, louvers

Checking all gas connections for leaks

Cleaning any lint and dust build-up around valves and controls

Inspecting for signs of wear

Fine tune the appliance for optimal flame appearance and fuel efficiency

Check gaskets for proper sealing

Inspect venting system for blockages, draft problems, leaks and excessive carbon accumulation

Clean glass of any soot buildup and corrosive salts

Check millivolt reading of pilot flame and adjust to factory specifications

Check safety clearances

Review proper operating procedures where needed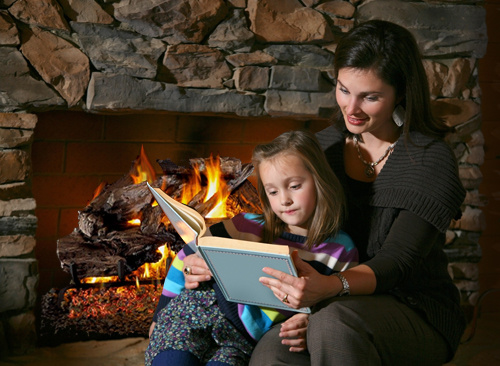 When we're called to fix a service problem on a gas fireplace,
99% of the time a thorough cleaning fixes the problem.
Ideally you should call us in summer when you're not using your fireplace rather than turning it on that first chilly day only to find it's not working.
| | | | | |
| --- | --- | --- | --- | --- |
| | | | | This gas log burner looked pretty sad when I arrived, but I cleaned up the burner and all the parts tested out fine. As is often the case, all the embers and decorative media had been cleaned out. I convinced the customer to let me paint the fireplace black so it looks uniform and tidy, plus a flame always shows up better against a black background. Replenishing the decorative media restored the original realistic appeal, the control knob works again and the flame is beautiful once again! |
| | | | | |
| | | | | |